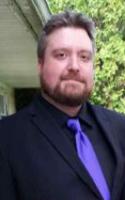 David Wilson
David Wilson, age 34, of Exton, PA, formerly of Media, PA, died suddenly on Wednesday, February 8, 2017. Dave was born in Upland, PA and was a Penncrest High School graduate, class of 2000. He was an Electrical Technician.
Dave loved to do things for everyone and his wit and humor made him fun to be around. He had a love for animals, having both dogs and cats during his life. He was an avid golfer and video gamer. He enjoyed cooking new dishes and in his earlier years enjoyed many family vacations at the Jersey beaches.
Dave was the son of the late, Dennis Wilson.
SURVIVORS:
Beloved Wife: Angela Wilson
Stepchildren: Taylor, Kiley, and Damien
Beloved Mother: Shirley (Joseph Calabro, Jr.) Wilson
Memorial Service: Private