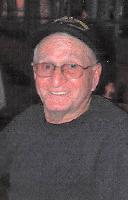 Julian "Joe" Kaminski
Julian "Joe" Kaminski, age 87, of Brookhaven, PA, formerly of Chester, PA, went home to be with the Lord peacefully on Monday, February 13, 2017. Joe was a proud WWII Army Air Corps Veteran, who served as a radio operator on a B17. Joe was an electrician and owned his own company, Jules Kaminski Electric.
Mr. Kaminski was a longtime member of the Chichester Baptist Church. He was also a member of the American Legion Post #94, Brookhaven, PA. Joe enjoyed hunting, fishing and skydiving, which he proudly jumped three times, one time at the age of 80. He especially enjoyed spending time with his friends at Dunkin Donuts in Parkside, PA. Most of all, Joe was a devoted husband, father and grandfather.
He was the son of the late Sen and Julie Kaminski; brother of the late Michael Kaminski.
Survivors:
Loving Wife of 63 years: Barbara (Elliott) Kaminski
Sons: Joe (Kathie) Kaminski, Mike Kaminski and Dan (Donna) Kaminski
Daughters: Nancy (Jerry) McCall and Debbie (Ray) Cubler
Grandchildren: Joey, David, Kevin, Dana, Joe, Heather, Justin, Lauren, Raymond and Shannon
Great Grandchildren: Elizabeth, Brian, Brady, Carson, Seth, Jayson, Gianna and Braxton
Funeral Service: Saturday, February 18th at 10:30AM at the Chichester Baptist Church, 800 Cherry Tree Road, Aston, PA 19014.
Visitation: Saturday, February 18th from 9:00-10:15AM at the Chichester Baptist Church.
Interment: Chester Rural Cemetery.
In lieu of flowers, memorial donations may be made in memory of Joe to: Chichester Baptist Church at the above address.