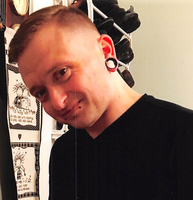 Ryan J. Coupe
Ryan J. Coupe, age 36, "Coupe" passed away on June 23, 2017. Ryan was born April 9, 1981 and was a 1999 Graduate of Sun Valley High School. He also received his Associate Degree in Web Design at Pennsylvania Institute of Technology and was on the dean's list. Ryan received his Electrical Certificate from Penn Foster. Ryan was a member of Gateway Community Church in Brookhaven, PA. He was currently employed at Budget Maintenance and was previously employed as electrical mechanic at Sisters of Saint Francis, Aston, PA.
Ryan enjoyed his Yorkies Mutters (deceased) and Zero. He enjoyed working on his car and surfing in Ocean City, Maryland. Ryan also enjoyed building computers and had a passion for hip-hop, graffiti, and spinning records. He loved his family, friends and Zero his Yorkie. He enjoyed collecting and watching movies, especially horror films. Ryan was active in NA and CA. Ryan loved his parents, grandmom, and Zero who loved him unconditionally.
Deceased Loved Ones: Charles Cannon (grandpop), Blanche & Joseph Coupe (grandparents) and Mutters his loving Yorkie
Survivors:
Wife: Jessica Gusler
Loving Parents: Eileen & Larry Coupe
Brother: Jeremy Coupe
Grandmom: Pauline Cannon, age 96, whom he loved so much
Sister-in-law: Tina Roach
Aunts and Uncles: Norman & Betsy Cannon, Pauline & Gailen Coupe, Susan & Steve Parker, Dorothy & Bruce Gaul, Joseph & Janet Coupe, Cheryl & Bob Worrell
Cousins: Michelle & Jerry Bryant, Melissa Coupe, Debbie Cannon, Tom & Cara Cannon, Jason & Sharon Parker, Adam Parker, Robbie & Josh Worrell.
Nieces and Nephews/ Second Cousins: Aubrey Coupe, Jaden Coupe, Laelle Delaney, Nora & Margot Cannon, Matthew Bryant, Kyle & Jordon Chaney and Cade Parker
Also survived by many friends
Funeral Service: Friday, June 30th at 11:30AM at Minshall Shropshire-Bleyler Funeral Home, Ltd., Middletown (Rte. #352) & Knowlton Rds., Middletown Twp., Media, PA 19063.
Visitation: Friday, June 30th after 10:00AM at the funeral home.
Interment: Private.
In lieu of flowers, memorial donations: Gateway Community Church, Brookhaven, PA, or The National Center on Addiction and Substance Abuse or Keystone Recovery 2001 Providence Ave., Chester PA 19013.