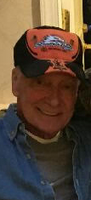 Ralph Donald Corson
Ralph Donald Corson "Donnie", age 71, of Aston, PA, formerly of Chester, PA, died Sunday, July 16, 2017. Ralph retired from Kimberly–Clark (formerly Scott Paper), after being a longtime employee. Ralph cherished spending time at his home in Cape May, NJ, where he enjoyed boating and fishing. He had a passion for old cars and Harley Davidson Motorcycles.
Ralph's personality was impressionable and he touched many lives. He will be remembered for his fatherly figure and always looking out for others. He was a devoted husband, father, grandfather and friend, who will be dearly missed.
Son of the late George and Marcella (News) Corson; husband of the late Carol A. (Wolenski) Corson.
Survivors:
Son: Scott (Christine)
Daughter: Christine (Ted)
Grandchildren: Michael, Ryan, Kenny, Danica and Taylor
Brother: Mark (Sharen)
Sister-in-Law: Debi (Jerry)
Brother-in-Law: Ed
Also survived by many family members and friends
Visitation: Thursday, July 20th after 10:30AM at the funeral home.
Funeral Service: Thursday, July 20th at 12:30PM at Minshall Shropshire-Bleyler Funeral Home, Ltd., Middletown (Rte. #352) & Knowlton Rds., Middletown Twp., Media, PA 19063.
Interment: Mt. Hope Cemetery.
In lieu of flowers, memorial donations may be made to: www.lupus.com