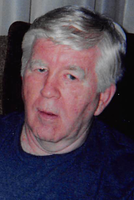 James E. Skelley
James E. Skelley, age 76, of Brookhaven, PA, died Friday, July 21, 2017, surrounded by his loving family. Jim enjoyed traveling and new adventures. He cherished spending time with his nieces and nephews.
Son of the late Jack and Madeline (Noel) Skelley.
Survivors:
Sisters: Kathy (Lynn) Williamson and Cindy Skelley
Brother: Tom (Helen) Skelley
Lifetime Devoted Best Friend: Tony
Also survived by nieces and nephews
Funeral Mass: Thursday, July 27th at 10:30AM at the Church of Our Lady of Charity, 231 Upland Rd. Brookhaven, PA 19015.
Visitation: Thursday, July 27th after 9:30AM at the church.
Interment: Ss. Peter & Paul Cemetery.