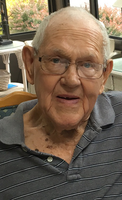 Harry Henry Ekas
Harry Henry Ekas, "Pappy", age 93, of Lima Estates, Media, PA, formerly of Tarentum, PA, died Saturday, July 22, 2017. Harry was a US WWII Army Veteran, who served in Italy and the Pacific. Harry had been a Locomotive Engineer. Harry was a member of Newtown Square Presbyterian Church, and a former member of Pleasant Unity Presbyterian Church in Tarentum, PA. Harry was a member of the Masons and the Shriners. Harry enjoyed outdoor activities, shop work and home projects of all types. He was a collector, model railroader, and a football and soccer fan. Most of all, he cherished spending time with his family, especially his grandchildren.
Son of the late Earl Oliver Ekas and Adele (Fredley) Ekas, Husband of the late Hannah Hepler Ekas and Brother of the late Sarah Jane Newcomer.
Survivors:
Son: Earl T. Ekas (Mary F. Platt) of Newtown Square, PA
Two grandchildren: Eric T. Ekas and Katherine M. Ekas
Two nieces: Sandra Earl and Barbara Hall
One nephew: Ernst Hall
Visitation: Friday, July 28th from 1:30 p.m. - 3:00 p.m. at the Minshall Shropshire-Bleyler Funeral Home, Ltd., Middletown (Rte. #352) & Knowlton Rds., Middletown Twp., Media, PA 19063, with a graveside service and interment at Media Cemetery, Media, PA, immediately following the visitation.
Memorial Donations may be made to: Salvation Army at www.SalvationArmyUSA.org