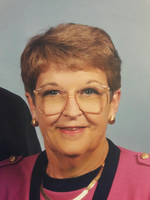 Joyce Ann Schreffler
Joyce Ann (Hoffman) Schreffler, age 86, of Glen Mills, PA, formerly of Rose Tree Media, Springfield and Sunbury, PA, died Saturday, August 5, 2017. Joyce was a graduate of Duke University, Class of 1953. Mrs. Schreffler was a secondary school teacher completing her career teaching English at Penncrest High School, retiring in 1989. After retiring, Joyce was actively involved in the community and served as co-chair for the Media Upper Providence Library Book Sale. She was a member of the Springton Lake Garden Club. Joyce enjoyed traveling around the world with her husband, Jack. Most of all, Joyce cherished spending time with her grandchildren.
Daughter of the late Fred E. and Sara E. (Howerth) Hoffman of Sunbury, PA.
Survivors:
Devoted Husband of 63 Years: Dr. Jack M. Schreffler, Springfield Podiatrist
Son: Kenneth (Sheila) Schreffler
Daughters: Emilie (Herbert) Conover and Margaret Schreffler
Grandchildren: Matthew, Quinn, Hunter, Erin and Katarina
Sister: Sara E. Lindsay
Brother-in-law: George W. Schreffler
Also survived by nieces and nephews.
Funeral Service: Saturday, August 26th at 11:00AM at Covenant United Methodist Church, 212 W. Springfield Road, Springfield, PA 19064
Visitation: Friday, August 25th from 6:30-8:30 at the Minshall Shropshire -Bleyler Funeral Home Middletown (Rte 352) & Knowlton Rds., Middletown Twp.,Media, PA and Saturday, August 26th at 10:00AM at the church.
Interment will take place following the service in the church memorial garden.
In lieu of flowers, memorial donations may be made to: American Lung Association at www.lung.org