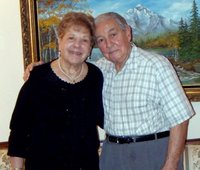 Mary Talento
Mary Sourenian Talento (June 2, 1927- September 1, 2017)
Mary Sourenian Talento was born June 2, 1927 to Asadour and Gaderina Sourenian. She was the youngest of three daughters and grew up in their home on Rodman St. in West Philadelphia's Armenian neighborhood with her two sisters Victoria and Lydia. A devout Christian, Mary attended Armenian Brethren and Tenth Presbyterian Church, graduated from West Philadelphia High School, and went on to work as an Executive Secretary at General Electric. It was there she met her husband Joseph L. Talento and they were married at Beverly Hills United Presbyterian Church in 1959.
Family was everything to Mary and she and Joseph were married for over 56 years raising their two sons at their home in Media Pa close to her sisters, cousins, and all their children. As the family grew she continued to host holiday and family dinners, picnics, and parties even having a dinner for the visiting cousins as recent as July 2017. Everyone looked forward to seeing "Aunt Mary" and she was respected, loved, and appreciated by those who knew her kindness, generosity, faith, and selfless disposition.
Mary mercifully passed away September 1, 2017 following a courageous battle with cancer helping others and caring for her family up until the very end. She is survived by her two sons, Joseph Jr and David, her daughter in law Cheryl, and her beloved grandchildren Suzanna and Michael Talento.
Mary founded two ongoing charity funds with the Armenian Missionary Association of America. In lieu of flowers the family asks that donations be made towards the Joseph L. and Mary Sourenian Talento Funds courtesy of https://amaa.org/, (201) 265-2607.
Funeral Service: Wednesday, September 6th, at 10:00AM at Newtown Square Presbyterian Church, 3600 Goshen Rd., Newtown Square, PA 19073.
Visitation: Tuesday, September 5th from 6:00-8:00PM at the Minshall Shropshire-Bleyler Funeral Home Ltd., Middletown (Rte. #352) & Knowlton Rds., Middletown Twp., Media, PA 19063.
Interment: Wednesday, September 6th at 1:00PM at Media Cemetery.