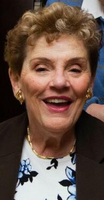 Elaine Gardner
Elaine Gardner, age 77, of Brookhaven, PA, died suddenly and peacefully on Saturday, September 9, 2017, surrounded by her loving family. Elaine was born in Darby, PA, and was a graduate of West Catholic High School. Elaine was an active parishioner at the Church of Our Lady of Charity, Brookhaven, PA. Elaine enjoyed reading, cooking and family vacations to the beach.
Daughter of the late Bernard J. and Sarah (Muschamp) Kelly, wife of the late Gerald D. Gardner (2016), mother of the late David C. Gardner (2008).
Survivors:
Daughter: Stephanie (Chris) Gallert
Son: Greg (Suzanne) Gardner
Daughter-in-law: Bridget McNally Gardner
Grandchildren: Colin, Rachael, Vincent, Caitlyn and Nathan
Funeral Mass: Thursday, September 14th at 11:00AM at The Church of Our Lady of Charity, 231 Upland Rd., Brookhaven, PA 19015.
Visitation: Thursday, September 14th from 10:00-10:45AM at the church.
Interment: Holy Cross Cemetery, Yeadon, PA.
Memorial Donations may be made to: The Church of Our Lady of Charity at the above address.
.