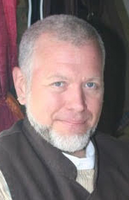 Edward M. Meek
Edward Mathias Meek is receiving the answers to the mysteries of the universe he always sought. He was our dear son, brother, uncle and friend. He lives on in our hearts. Eddie passed away on September 28, 2017.
Eddie lived 1000 years in his 46 on this earth because he inquired, pushed boundaries, grabbed life and swung him around life's dance floor. He tested us, you know he did, from sticking spoons in sockets to spending time in the deprivation tank just to see what would happen. He had an insatiable need to know.
We remember his big blue eyes, boisterous laugh, and inappropriate sense of humor. We knew that spending an evening with him ran the risk of significant collateral consequences, or at minimum, a really bad hangover. He expanded our horizons and shared his wealth of information; both the welcome and the uninvited alike.
He had a heart of gold and often gave the shirt off his back. Eddie never forgot any of you. He never forgot a story, a movie, a person, or a random fact. He had a knack for explaining the unexplainable.
Eddie had his challenges as well. These demons chased him throughout life. He tried to run faster, but sometimes they caught him.
We all have our own special memories of our time with Eddie. He will be sorely missed by his mother, Sandra L Forney (David); his father, Edward R Meek, his siblings; Tara (Ed), Lori, David (Alex), Brian (Stephanie), Michelle (Patrick) and nieces and nephews; Snowden, Tagan, Hazel, Kiran, Jeff, Billy, Alexa, Luke, Jarred, Jordan, Aiden, Reagan, Nate, Bella, Gabrielle, Cindy, Becca, Jessie, Zach and Jack, and an amazing collection of friends, and acquaintances. He was predeceased by his other mother, Patricia Meek, and his other brother, Ron Hamilton. He touched so many, with his great spirit.
We will love him forever.
Visitation: Friday, October 6th from 10:00-11:30AM at the Minshall Shropshire-Bleyler Funeral Home, Ltd.
Middletown (Rte. #352) & Knowlton Rds., Middletown Twp., Media, PA 19063.
Funeral Service: Friday, October 6th at 11:30AM at the funeral home.
Interment: Private.
In lieu of flowers, we hope that you would perform an unexpected and unsolicited act of kindness for someone in need in Eddie's name.