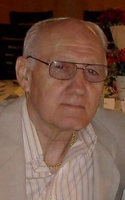 John Mark "Mark" Hennessy
John "Mark" Hennessy, age 79, of Parkside, PA, died Monday, October 30, 2017. Mark was born February 5, 1938 in Wilkes-Barre, PA. Mark was employed with the United States Postal Service and was devoted to the postal union and the many lives he touched. He was a US Army Veteran. Mark was involved with the Media Boys Club. He was passionate about the Phillies. Mark enjoyed collecting records for his juke box and enjoyed listening to Hank Williams Jr., and Johnny Cash. Most of all, he was devoted to his family and enjoyed traveling with Virginia.
Son of the late Francis David and Mary Patricia (Casey) Hennessy; Brother of the late Thomas Hennessy and Shelley Hennessy.
Survivors:
Wife: Virginia (Goodfellow) Hennessy
Sons: John, Michael (Shanna) and Christopher (Linda) Hennessy
Grandchildren: Angel, Christian, Caitlyn, Colin, Daniel and Julia
Step-Children: William, Patrick, Ginny, Lisa, Daniel, David and their spouses and children.
Siblings: David (Charlene), Gayle (Robert) and Huntley (Linda)
Sister-in-Laws: Angela and Ursula Hennessy
Also survived by nieces and nephews
Former Wife: Beverly
Visitation: Friday, November 3rd after 10:30AM at the Minshall Shropshire-Bleyler Funeral Home, Ltd., Middletown (Rte. #352) & Knowlton Rds., Middletown Twp., Media, PA 19063.
Funeral Service: Friday, November 3rd at 11:30AM at Minshall Shropshire-Bleyler Funeral Home, Ltd.
Interment: Ss. Peter & Paul Cemetery.
In lieu of flowers, memorial donations may be made to: Postal Employees Relief Fund, www.postalrelief.com/donate.html or Dementia Society of America, https//secure. Dementia.society.org