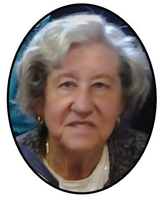 Mildred R. Kurman
Mildred R. Kurman (nee Hrubovcak), age 83, of Chester, PA passed away peacefully on November 4, 2017 at the home of her daughter in Glen Mills. PA. Mildred is predeceased by her husband of 51 years, Joseph W. Kurman, Sr. who died in 2008. She is the daughter of the late John M. and Cecilia M. (Turansky) Hrubovcak and sister of Cecilia T. Hrubovcak and the late John S. Hrubovcak.
She was a lifelong resident of Chester, PA. After raising her children and caring for her mother-in-law, Mildred worked as a secretary in the Chester Upland School District until she retired in 1994. After retiring, Mildred worked as a Volunteer Income Tax Assistance (VITA) preparer for many years at the Chester Senior Center. She was a benefactor for Elwyn Incorporated.
Mildred was a longtime member of Holy Ghost Ukrainian Catholic Church (Holy Myrrh Bearer's), Chester, PA. In addition, she was a member of the Ukrainian American Citizens' Club.
Mildred was an avid vegetable gardener. In 2012, she won first place blue ribbon from the Penn State Cooperative Extension Delaware County for her home vegetable garden. She enjoyed doing activities that involved her children and grandchildren.
She is survived by her children, Mildred Kurman (Joseph) Malriat, Joanne (Robert) Blonarowycz, Joseph W. (Marilyn) Kurman, Jr., and 5 grandchildren, Joseph (Cherie) Malriat, Matthew Malriat, Tristan Blonarowycz, Sarah Blonarowycz, and Olivia Kurman.
Relatives and friends are invited to her viewing and Panachyda Service on Thursday, November 9th, at 7:00 PM at the Minshall Shropshire-Bleyler Funeral Home, Middletown (Rte. #352) & Knowlton Rds., Middletown Twp., Media, PA 19063 and Friday, November 10th, at 10:00 AM at Holy Myrrh-Bearer's Eastern Catholic Church, 900 Fairview Rd., Swarthmore, PA 19081.
Funeral Services of Christian Burial at 11:00 AM on Friday, November 10th, at Holy Myrrh-Bearer's Eastern Catholic Church, 900 Fairview Rd., Swarthmore, PA 19081.
Interment: Ss. Peter and Paul Cemetery, Springfield, PA.
Memorial Contributions: In lieu of flowers, please send contributions to Alzheimer's Association, Alzheimer's Association National Office, 225 N. Michigan Ave., Fl. 17, Chicago, IL 60601, https://act.alz.org/