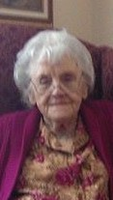 Wanda C. Bogucki
Wanda C. (Krasowski) Bogucki, age 92, of Brookhaven, PA, died Thursday, November 9, 2017.
Wanda was a graduate of Notre Dame High School, Moylan, PA. Wanda enjoyed bowling, bingo and pinochle. Most of all, Wanda was devoted to her home and family.
Wife of the late Edward M. Bogucki and predeceased by 3 sisters and 4 brothers.
Survivors:
Son: Edward L. Bogucki
Daughters: Donna (Robert) Dunleavy and Diane (Thomas) Ginsburg
8 Grandchildren and Great-Grandchildren
Also survived by nieces and nephews
Funeral Services will be held privately at the Church of Our Lady of Charity, Brookhaven, PA and burial will take place at Ss. Peter & Paul Cemetery.
In lieu of flowers, mass cards would be appreciated.