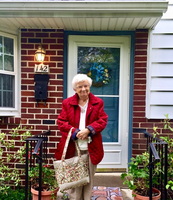 Dorothy M. Wilkinson
Another angel has joined God in heaven. Dorothy May Wilkinson, age 86, died peacefully on Wednesday evening, November 22, 2017, at Paoli Hospital following complications from surgery for her third bowel obstruction, surrounded by her family loving on her and singing her favorite hymns and Vacation Bible School songs.
Dot was born at home on June 22, 1931, to Edna and Tom Hallam, and lived at her home in King of Prussia for the past 42 years. Dot helped raise her twin brothers, Tom and Jim Hallam, who were born when Dot was 13 years old and later both became Methodist ministers. Jim (married to Kerry) serves at Valley Forge United Methodist Church and Tom (married to Marlene) currently is in private practice as a psychologist in Doylestown, PA. Dot also enjoyed a loving relationship with her older sister, Edna Shaw, who predeceased her. Dot was married to Harry F. Wilkinson, a former Methodist minister and leader in The Arc (for people with intellectual and developmental disabilities) in Morris County, NJ, who also predeceased her. Dot showered their three children with endless love – Karen Palmer of Cary, NC; David Wilkinson (and wife Lisa) of Harleysville, PA; and Mark Wilkinson of King of Prussia. She also adored her grandchildren: Chris Carroll of Washington, DC; Robert Wilkinson (and wife Mary) and Kim Arena (and husband David) of Philadelphia, PA; Scott Wilkinson (and wife Michelle Wilkauf) of Reading, PA; Becca Wilkinson of Yakama, WA; and her precious great-grandchild, Henry Wilkinson of Philadelphia. Dot likewise loved her extended family, including Donna Lawrence of California, Al and Emily Shaw of North Carolina, all their children, as well as friends from her life, church, and Lower Merion High School.
Just as Dot's medical case was "one in a million," so too was Dot. Dot was a gentle and caring soul who lived life with a passion for unconditional love, giving, and kindness. A quiet yet incredible example of strength and faith, Dot loved a good belly laugh, reading, traveling, crocheting, angels, butterflies, pansies, and sharing time with family and friends. Working while in high school as a bookkeeper, Dot graduated second in her class from Mastbaum High School in Philadelphia -- winning the stenography award. Dot later worked for the Home Insurance Company, and retired from Lower Merion High School as a secretary. She continued to work as a substitute secretary for Lower Merion High well into her late 70s and volunteered in the office of St. Matthews United Methodist Church. Active in St. Matthew's "59ers" group, Dot loved to decorate the luncheon tables with her collection of Byers Carolers. Dot regularly attended Jim's church, Valley Forge United Methodist, and participated in their women's group.
The family thanks her surgeon, Dr. Tim Fox, for his loving compassion for Dot, and for all the nurses, doctors, and staff at Paoli Hospital for their endless kindness and care.
Visitation is Sunday, November 26, 2017, from 3:30-5:00 PM at Minshall Shropshire-Bleyler Funeral Home, 608 South Old Middletown Rd, Media, PA 19063. Website: www.msbfh.com Phone: 610-876-4213.
Visitation will also be held on Monday, November 27th from 10:00 -11:00 AM prior to the funeral at St. Matthews United Methodist Church.
Funeral is at 11:00 AM at St. Matthew's United Methodist Church, 600 Walker Rd, Wayne, PA 19087. Website: https://www.stmatthewsvf.org.
Burial immediately following the funeral is at Limerick Garden of Memories, 44 Swamp Pike, Limerick, PA 19468. Website: http://www.dignitymemorial.com/limerick-garden-of-memories/en-us/index.page.
Dot's favorite charities are:
St. Matthew's United Methodist Church
600 Walker Rd, Wayne, PA 19087
Valley Forge United Methodist Church
1890 Valley Forge Rd., P.O. Box 541
Valley Forge, PA 19481
Hymn of Promise
In the bulb there is a flower; in the seed, an apple tree;
In cocoons, a hidden promise: butterflies will soon be free!
In the cold and snow of winter there's a spring that waits to be,
Unrevealed until its season, something God alone can see.
There's a song in every silence, seeking word and melody;
There's a dawn in every darkness, bringing hope to you and me.
From the past will come the future; what it holds, a mystery,
Unrevealed until its season, something God alone can see.
In our end is our beginning; in our time, infinity;
In our doubt there is believing; in our life, eternity.
In our death, a resurrection; at the last, a victory,
Unrevealed until its season, something God alone can see.