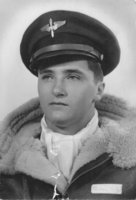 Major Richard Lawrence Teufel, USAF
Major Richard Lawrence Teufel, USAF Retired, age 93, died peacefully at home, surrounded by his family on Wednesday, November 22, 2017. Dick was born in Chicago, Illinois September 12, 1924. He was sworn in to the Army Air Corp 3 June 1943. He received his pilot training in Texas and Oklahoma. Dick graduated from pilot school 4 August 1944. From 1944 to 1945 he Served in the China Burma India Theater flying C46's. Later Dick was stationed on Naha, Okinawa preparing for the invasion of Japan in 1945. He was also stationed at Tachikawa, Japan where he flew C47's, C54's during the Korean War. He was awarded Air Medal with 6 oak leaf clusters. After Korea he was based at Brookley AFB flying C74's and C-A124's throughout Europe and the Middle East. Next was stationed at Hickam AFB flying C124 Globemasters throughout the Pacific in the 48th Air Transport Squadron (MATS). His last active military duty was spent at Andrews AFB 89th Airlift Wing SAM (Special Air Missions) where he flew C121s, Boeing VC-137. While in Special Air Missions he had the privilege to fly Vice President Lyndon Johnson and other dignitaries of President Kennedy's cabinet. Also flew C-121E, President Eisenhower's aircraft after the President left office. Dick retired from the United States Air Force 1 June 1964. After retirement he was privileged to continue his flying career with the Sharples family of Haverford, PA, for the next 20 years.

Visitation: Saturday, December 2nd from 2:00 to 3:30PM at the Minshall Shropshire-Bleyler Funeral Home, Middletown (Rte #352) & Knowlton Rds., Middletown Twp., Media, PA 19063.
Interment: Full Military Honors at Arlington National Cemetery at a later date.