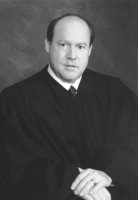 Honorable James F. Nilon, Jr.
Delaware County Judge James Nilon, 68, of Middletown;
Dedicated jurist, proud Irishman and avid aviator
The Honorable James F. Nilon, Jr., a Delaware County Common Pleas judge known as much for his dedication to justice as his Irish humor, love of history and spirit of adventure, passed away January 18, surrounded by his family at his Middletown home.
Judge Nilon, 68, died after a brief yet brave battle with cancer.
Judge Nilon was born in Delaware County, Pennsylvania, Feb. 26, 1949. He was the son of James F. and Doreen Randell Nilon who predeceased him. He is survived by his wife of 42 years, Leslie Vough Nilon, and his sisters, Sharon Rovelli, (Jose A.), Deborah Buckson, (Brian R.), Holly Wilson, and his sister-in-law Margaret (Patty) Proch. He is also survived by numerous beloved nieces, nephews, and cousins.
A graduate of Archmere Academy, Judge Nilon earned his undergraduate degree from Widener College and his law degree from the Delaware Law School of Widener University, where he served as a member of the Law Review and Moot Court Honor Society. He was admitted to the bar in 1978 and was a partner in the Robbins, Tozer & Nilon Law Firm.
Judge Nilon was elected to a 10-year term on the Delaware County Court of Common Pleas in 2005 where his reputation for judicial expediency and fairness served him well. In 2015 he was retained for a second 10-year term and he led the Criminal Trial Division at the time of his retirement in December 2017.
He was known for his fair-minded jurisprudence and he was treasured by the members of the bench along with his staff and other colleagues.
Prior to his election to the Court of Common Pleas, he served as Magisterial District Judge in Middletown Township from 1989 until 2005. He was president of the District Judge Association in 2003 and served on the Strategic Planning Team for the Unified Case Management System for Delaware County Courts and the Delaware County Criminal Justice Advisory Committee.
In addition to his legal career, he was a civic leader in Middletown Township, having served as chairman of the Middletown Township Parks and Recreation Committee and on the Middletown Township Planning Commission and Open Space Committee.
Jimmy's professional accomplishments were only overshadowed by those he attained in his private life. He was passionate about aviation and learned to fly at the Philadelphia Seaplane Base under the instruction of the late Robert "Bobbie" Mills. Jim soloed on his sixteenth birthday and spent every free moment he could in the air. As a teenager he rebuilt and fully restored a Piper Cub. He was a licensed pilot throughout his life and held numerous aviation ratings. Jim flew everything from seaplanes and tail draggers to gliders. He was a member of the Ancient and Secret Order of Quiet Birdmen, Philadelphia Hangar. He was also a member of the Friendly Society of the Sons of Saint Patrick.
He also loved sailing and spent enjoyable days in Annapolis, Md., exploring the Chesapeake Bay with family and friends. He was a dedicated volunteer on the battleship USS New Jersey, regaling his family with stories of his maintenance exploits. His most recent interest was in fabrication and he installed a machine shop at his home to assist him with his volunteer work on the New Jersey.
He was a licensed Ham Radio operator skilled in Morse Code. He also loved golf, deep-sea fishing, skiing, both water and snow, he drove motorcycles and dirt bikes, and even took the occasional horseback ride through the park. His adventurous spirit was a delight to his nieces and nephews, always ready to join him in any pursuit.
Jimmy taught himself to play the guitar and took any opportunity to play for an audience. He was a lifelong learner, an avid reader of non-fiction, a knowledgeable historian, especially on the subjects of aviation and World War II. He enjoyed travel and exploring battlefields and visiting museums dedicated to those subjects.
Above all else, Jim loved spending time with his wife Leslie at their homes in Middletown Township and Sea Isle City, New Jersey. He will be greatly missed by all those who knew him.
Funeral Mass: Thursday, January 25th at 12 Noon at The Church of St. Frances De Sales, 35 New Road, Lenni, Aston PA 19014, where friends may call after 10:00AM.
Interment: Ss. Peter & Paul Cemetery.
Contributions may be made to Battleship New Jersey, 62 Battleship Place, Camden, NJ 08103 or Andy's Friends Inc, PO Box 7303, Wilmington, DE 19803. (Do not delete this line. It does not print. Text that is to appear on web must be entered after this line)«