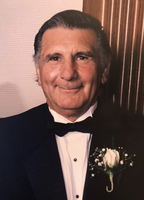 John A. Imburgia
John A. Imburgia, aged 86, of Wilmington, DE passed away peacefully on Friday, January 26th at his home surrounded by his loved ones.
John was born and raised in Marcus Hook, PA, son of the late Samuel and Carmella Imburgia. He went to Archmere Academy where as a freshman, he was on the JV and varsity teams in basketball, and football. After high school, he played semi-pro football and went on to serve his country in the Korean War by driving military trucks for the Army from 1952 - 1954.
John was a constant hard worker. He started working for his father, as early as 5 years old, for the family moving business. He was an extremely generous man who dedicated his entire life to helping others, providing for his family, and teaching his children how to make a better life for themselves with a solid work ethic. In 1969, he started his own business, Brandywine Moving & Storage Co., out of his home – which grew and flourished for nearly 30 years before he retired.
John and his family enjoyed summers in Avalon, NJ in a house that he himself rebuilt, from the ground up. He was also an avid Philadelphia Eagles fan and had season tickets.
John is survived by his four children, Mary Jo Imburgia, John J. Imburgia (wife Christine, children Jack and Chad), Noel C. Imburgia (wife Kristen, children Patrick, Noel, Alexis, Nick, Ashton), and Chris W. Imburgia (wife Olga, son Sawyer). John is also survived by 3 brothers, a sister, many cousins, nieces and nephews.
A public viewing will be held on Thursday evening, February 1st, from 6:00 to 8:00 p.m. and again on Friday afternoon, February 2nd, from 12:00 to 1:00 p.m. at Immaculate Heart of Mary Church, 4701 Weldin Rd, Wilmington, DE 19803 with a Mass of Christian Burial to follow at 1:00 p.m. Interment will follow the mass on Friday at St. Joseph on the Brandywine Cemetery, Greenville, DE.
In lieu of flowers, memorial contributions may be made to the American Heart Association, and we ask that you root for the Eagles this weekend in Super Bowl LII.
.