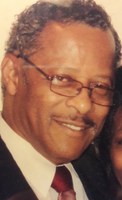 James D. Carter, Sr.
James Daniel Carter, Sr. was born January 25, 1944 in Montrose, PA, to Reginald and Bertha. Both parents predeceased James in passing.
James moved to Philadelphia, PA, where he received his early education. He then joined the United States Army and serviced his Country bravely for 4 years. James received an honorable discharge and returned to Philadelphia, PA in 1962. James married Charlotte Marie Preston on November 20, 1965, from that union the Lord blessed them with three children, David M. Carter, Charlotte Streat and James D. Carter, Jr.
James pursued higher education at the University of Nebraska Omaha in 1974 in Social Work/Child Development. James was a member of the Junior Honor Society and the Dean's List.
The family traveled extensively to various states and James and Charlotte worked with developmentally delayed adolescents. After traveling, James worked for the Commonwealth of PA for 20 years then he retired.
Son James D. Carter, Jr. (lovingly known as Jimmie), Charlotte his wife and Michael Carter his brother predeceased him in passing.
James married Edith Marie Morris on June 11, 2011 to this union God blessed James with two daughters, one son-in-law and two grandchildren.
James ran and successfully won Judge of Elections for Chester Township. He later ran and won a seat on the Chester Township Council. James enjoyed fishing, camping and hunting and went as often as he could until his health would no longer allow him to.
James loved and service the Lord through-out his life. He was a faithful member of St. Andrew- St. Monica Episcopal Church. James and Edith became members of Bethany Baptist Church where James is still a faithful member upon his passing.
James leaves to celebrate his life his loving wife Edith M. Carter, Son David (Renee), Three Daughters Charlotte (LaRoy), Kisha, Jessica (Adrian), 10 grandchildren, Michael, Danielle, Lindsey, Amanda, Kita, LaRoy, Christopher, James III, Adrain and Aaron, 2 Sisters, Margaret (Floyd) and Linda (Eugene), mother-in-law, 8 sister-in-laws and 3 brother-in-laws and a host of
nieces, nephews, cousins and friends.
Visitation: Friday, February 23rd from 9:30-11:00AM at Bethany Baptist Church 1121 Tilghman Street, Chester, PA 19013.
Funeral Service: Friday, February 23rd at 11:00AM at Bethany Baptist Church.
Interment: Merion Memorial Park, Bala Cynwyd, PA