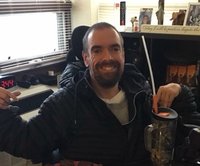 Jai S. Sujan
Jai Shyam Sujan, age 44, died suddenly on March 1, 2018 at home. Jai was a graduate of Penncrest High School and West Chester University. He was employed at the Please Touch Museum of Philadelphia.
Jai was a parishioner of St. Francis De Sales Church. He was an Eagle Scout and a member of the Order of the Arrow and Sons of the American Revolution, which he shared with his Grandpa Jim. Jai went to Japan with Mr. Bill Kenny and the Boy Scouts for the Boy Scout Jamboree. He loved to travel and was a big history buff.
Son of the late Mary E. Sujan, grandson of the late Eileen and James Townsend and Ghanshyam and Gopi Sujan.
Survivors:
Father: Shyam Sujan
Wife: Laura Emerson
Sisters: Megan S. (Rob) Atkinson and M. Neelam (David) Lindquist
Nieces and Nephews: Caroline, Will and Molly Atkinson, Jemma and Gracie Lindquist
Aunts: Anne (Kent) Salisbury and Vilma Hartmann
Visitation: Friday, March 9th after 10:00AM at St. Francis De Sales Church, 35 New Rd. Aston, PA 19014.
Funeral Mass: Friday, March 9th at 11:00AM at St. Francis De Sales Church.
Interment: Private.
In lieu of flowers, memorial donations may be made to: United Cerebral Palsy, www.ucp.org or UCP Development Office, 1825 K Street NW, Suite 600, Washington, DC 2006.