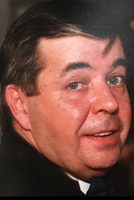 Howard J. Petticord
Howard Petticord "Peck", age 72, passed away on Sunday, March 25th, 2018, at Crozer-Keystone Hospice Residence at Taylor Hospital in Ridley Park, PA. Peck was a U.S. Air Force Veteran who served in the Vietnam War from 1963 to 1969. He retired after 25 years of dedicated service at Crozer-Chester Medical Center in Upland, PA. Peck spent many years coaching with Aston A.A. and Aston Valley Baseball. He was also a member of the American Legion Post #926 of Aston, PA.
Son of the late Howard and Dorothy Petticord and uncle of the late Frank Saviski.
SURVIVORS:
Beloved Wife of 46 years, Joan Petticord
Children: Michele (Jeff) Shetter, Michael (Rachel) Petticord, Kristen (Steffin) Alvanitakis
Grandchildren: Jessica, Morgan, Kylie, Ryane, Brandon and Billy
Great-Grandson: Colton
Sisters: Mary June Blevin and Dorothy Jordan
Also survived by many Nieces and Nephews.
Funeral Service: Friday, March 30th, 2018, at 11:00 AM at the Minshall Shropshire-Bleyler Funeral Home, Ltd., Middletown (Rte. #352) & Knowlton Roads, Middletown Twp., Media, PA 19063.
Visitation: Friday, March 30th, 2018, from 9:30AM -10:45AM at the funeral home.
Interment: Mount Hope Cemetery, Aston, PA.