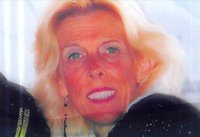 Holly Jean Swanson Booth
Holly Swanson Booth went home to be with her Lord on March 20, 2018 at Crozer Chester Medical Center with her family around her. She died of injuries sustained in an automobile accident.
She was born and raised in Aston, PA. Holly graduated from Sun Valley High School, Class of 1973. She attended Northeastern Christian College, DCCC and Neumann College / CCMC for a degree in phlebotomy. Holly was a CNA, most recently employed as a caregiver.
Holly was a member of the Reformed Presbyterian Church of Boothwyn, PA. She had been a member of the GFWC Women's Club of Aston, PA, and Delaware County.
Holly was an excellent cook, more than competent at computer work, had a great sense of humor, and loved to read. She loved her cat, Elvis.
Her father William O. Swanson was deceased as well as her stepfather Dr. W. Robert VanZandt as well as her grandparents Mr. & Mrs. C.A. Roehring and Mr. & Mrs. Clocede Dauton.
She is the treasured and beloved daughter of Barbara S. VanZandt. Her brother is Eric W. Swanson of Florida, son Cheyney Booth, Uncle Ted Roehrig (Dolores) of Newtown Square, PA, Niece Dana S. O'Brian (Dave) of Florida, Cousins, Ted Roehrig, Jr. (Lori) of Downingtown, PA, Curtis Roehrig (Jennifer) of Newtown Square, PA, Nancy Conway (Ira) of Media, PA, Sally Cheyney of Lancaster, PA, and Earlen Goodley (Don) of New Jersey.
A Memorial Service will be April 7th at the Reformed Presbyterian Church of Boothwyn, 2655 Chichester Ave., Boothwyn, PA. Visitation 10:00AM followed by service at 11:00AM.
In lieu of flowers memorials may go to the Reformed Presbyterian Church of Boothwyn in Holly's name.