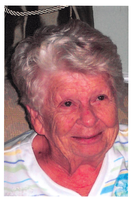 Jennie Louise Gaal
Jennie L. (Halvorsen) Gaal, age 98, of Woodlyn, PA, died Monday, April 2, 2018. Jennie was a charter member of Woodlyn Baptist Church.
Wife of the late Coleman Gaal.
Survivors:
Daughters: Carole (Charlie), Eleanor (Larry) and Donna (David)
7 Grandchildren
8 Great-Grandchildren
Funeral Service: Friday, April 6th 2018 at 11:00AM at Woodlyn Baptist Church, 1125 MacDade Boulevard, Woodlyn, PA 19094, where friends may call after 10:00AM.
Interment: Lawn Croft Cemetery.
In lieu of flowers, memorial donations may be made to: Woodlyn Baptist Church, at the above address.