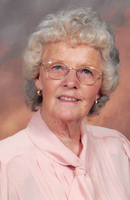 Sally Lou Bergeman
Sally Lou Bergeman, went home to be with her Lord & Savior on March 21, 2018.
Born Sara Louise Smith on August 8, 1931 in Darby, PA to Louis and Sarah Smith. She attended Darby High School and Mt. Zion United Methodist Church. Sally married Albert W. (Bud) Bergeman on June 21, 1951 and moved to Brookhaven, PA. As a mother of four boys, Sally enjoyed her family life and always supported her sons' active sports careers. She loved gardening, camping and numerous outdoor activities. Sally was an active member of Mt. Hope United Methodist Church, where she cherished Sunday school, church services and activities. Bud and Sally moved to Maris Grove in Glen Mills, PA in 2007 to enjoy their senior years.
Survivors:
Sons: Albert L. (Vicki), Robin K., Jeff (Wendy), Chris (Kelli) Bergeman and 7 Grandchildren.
Memorial Service: Wednesday, April 11th, 2018 at 11:00AM at Mount Hope United Methodist Church, 4020 Concord Rd., Aston, PA 19014, where friends may call after 10:00AM.
Interment: Mt. Hope Cemetery.
In lieu of flowers, memorial donations may be made to: Mt. Hope United Methodist Church at the above address and/or Willow Tree Hospice 616 E. Cypress Street Kennett Square, PA 19348.