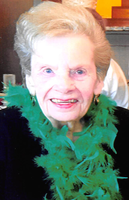 Marjorie V. Osifat
Marjorie V. Osifat, age 87, of Aston, PA, died Monday, April 2, 2018 at Riddle Memorial Hospital. Marjorie was born July 1, 1930 in Chester, PA. She was a graduate of Media High School. Marge was a medical secretary for 25 years until retiring in 1995.
Mrs. Osifat was a devoted member of Aston Lioness Club and the Historical Society of Aston, PA. She was an avid reader, enjoyed cooking for family and doing crossword puzzles.
Wife of the late Edward F. Buza, and Joseph Osifat, mother of the late Beryl Elaine Barlow, sister of the late Twila Sanborn and a dear friend Francis (Frankie) DelViscio
Survivors:
Daughter: Suzanne DiCarlo
Son: Brian E. Buza
Grandchildren: Corinna Fields, Heather Fields, Jackson (Damaris Rolon- Steele) Steele, Joshua (Melanie)Ramsey, Gina M. DiCarlo, Matthew DiCarlo, Michael Buza, Devon Buza, Jason Korineck, Melanie Korineck
6 Great-Grandchildren: Catherine Anne Hance, Raymonth Fithian, Pete Slawter, Antonio Steele, Ariana Steele and Jackson Steele
Cousin: Howard "Skippy" Stern
Niece: Sheri Dodsworth
Lifetime Friend: Betty McConnell
Visitation: Saturday, April 7th 2018 from 10:00AM-11:15AM at the Minshall Shropshire-Bleyler Funeral Home, Ltd. , Middletown (Rte. #352) & Knowlton Rds., Middletown Twp., Media, PA 19063.
Aston Twp. Lioness Service will be held at 11:15AM
Funeral Service: Saturday, April 7th 2018 at 11:30 AM at the funeral home.
Interment: Private.
In lieu of flowers, memorial donations may be made to: the Lioness Club of Aston, American Cancer Society, Williamson College of the Trade.