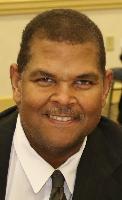 Lance Gooden Washington
Lance Washington, product developer and creative marketing specialist, dies at age 48.
Lance Washington, a life-long resident of Wallingford, PA. died at home on Friday, September 16, 2016 unexpectedly. Graduate of Strath Haven High School, he went to Penn State and West Chester Universities for marketing and criminal justice. He worked to develop and prepare products and licensing agreements for major entertainment, sports entities including Paramount Pictures, NASCAR, QVC, and others, biopharmaceuticals, US and abroad, and for various governmental agencies.
He was the loving son of the late Emory W., Sr. and the late Dolores (nee Gooden) Washington. He is survived by his siblings, Diane, Emory, Jr., Darien, Mala; and his loving and faithful dog; brother-in-law Edward C. Arthur, sister-in-law Bonnie Johnson, nieces and nephews, a host of relatives, and a loving extended family of friends worldwide.
Visitation: Tuesday, September 27th from 12:30 p.m. to 1:30 p.m. at the Minshall Shropshire-Bleyler Funeral Home, Ltd., Middletown (Rte. #352) & Knowlton Rds., Middletown Twp., Media, PA 19063
Celebration of his Life: Tuesday, September 27th at 1:30 p.m. at the funeral home
Interment: Philadelphia Memorial Park in Frazer, PA.