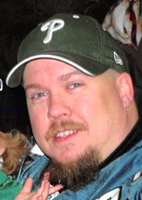 David "Crash" Camp, Sr.
May 22, 1968 – August 10, 2017
David "Crash" Camp, Sr., age 49, of Parkside, PA, died August 10th, 2017 at home.
Childhood resident of Aston, Pa. Graduate of Sun Valley High School and Member of Laborers' Local Union 57, passed away at home on 8/10/2017. CRASH was a man blessed with many talents. Most of us were very familiar with the unique way he'd work the crowd at many local venues while playing his bass as a valued member of popular bands known as Early Grayce, STRAW, VooDoo 4 Dummys, Sinderblok and Trouble Walkin'. Crash cherished the time he spent at their trailer at the Jersey Shore. He was a devoted Philadelphia Flyers Hockey and Eagles Football Fan, and a loyal Brother of THOR MC where the love of his Harley was obvious.
CRASH is survived by his beloved wife and soulmate Judi (nee.Wagner) Son and greatest accomplishment, David Jr. ( Tina whom he loved as a daughter), their two children, Judi and CRASH's Grandchildren, Alexis and Jameson who in Pop's eyes were the reason the sun would set and stars shined so bright at night. His parents, John W. Sr. and Joyce Camp Brother, John Jr. (Nancy) and Sister, Elaine Faulkner (Bill) and many Nieces and Nephews.
Funeral Services: Thursday, August 17th, 2017, at 12:00 Noon at the Minshall Shropshire Bleyler Funeral Home, Middletown (Rte. #352) & Knowlton Roads, Middletown Twp., Media, PA 19063.
Visitation: Thursday, August 17th, 10:00 AM to 11:45 AM at the funeral home.
Interment: Mount Hope Cemetery, Aston, PA.
In Lieu of flowers, memorial contributions may be made to: ASPCA in honor of ALEXIS & JAMESON CAMP
https://www.aspca.org