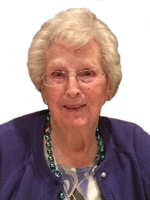 Mary Louise Larison
Mary Louise Brady Larison, "Weegee" age 92, a resident of Brookhaven, PA, for more than 60 years, died Wednesday, September 20, 2017. Mary Louise was born February 9, 1925 in Savannah, GA. She grew up near Troop Square, was a graduate of St. Vincent's Academy, Class of 1943, graduated from St. Joseph's Hospital School of Nursing, Class of 1946, and was a member of the Cadet Nurse Corps.
She met her late husband, John Francis Larison, Sr., at a USO dance in Savannah, GA, during WWII, fell in love, got married and moved up North to start a family. Mary Louise worked as a Registered Nurse at Chester Hospital, Crozer Hospital, and Sacred Heart Hospital, before working for Dr. Ernest Tremblay in Middletown Twp., Delaware County, PA. She was a homemaker, raising 6 children, was devoted to her family and cherished her grandchildren and great-grandchildren.
Mary Louise was preceded in death by her husband, John Francis Larison, Sr., her parents Thomas Brady and Ellen Kelly Brady, her siblings Ellen "Nellie" Brady Moore, John "Jack" Brady, Anne Brady Cooper, Rose Brady Carter and Thomas Brady, Jr., and granddaughters Catherine, Mary Louise and Isabel Manlove.
She is survived by:
Daughters:
Mary Louise (Jack) Manlove of Wilmington, DE
Suzanne (David) Hack of Watertown, MA and Chapel Hill, NC
Nancy Larison of Brookhaven, PA
Eileen (Art) Kubach of Lumberton Township, NJ
Terri (Scott) Jones of Wilmington, DE
Son:
John Larison, Jr. of Upland, PA
Grandchildren:
Megan Manlove (Brian) McGlinchey
Nellie Manlove (Jack) Hill
Emily Hack (Patrick) Venanzi
Carolyn Hack (Richard) Davis
Caroline Kubach
John Kubach
Katie Jones
Adam Jones
Great-Grandchildren:
Norah McGlinchey
Tessa Venanzi
Leo Venanzi
Harry Davis
George Davis
Cierra Hill
Many Nieces and Nephews
Mary Louise was a longtime parishioner of Our Lady of Charity Church and was a member for many years of the Charitians. She enjoyed spending summer vacations in Savannah, GA, and Emerald Isle, NC, visiting family and friends, and would never pass up the opportunity to drive down to Atlantic City to play the slots with her husband.
For the past few years, she was assisted at home by Patty, Brenda, Lois, Mary Beth, Jen and Hope of Kind Hearted Care. Mary Louises' family are extremely grateful for their help in caring for their mother.
Funeral Mass: Wednesday, September 27th at 11:00AM at Our Lady of Charity Church, 231 Upland Rd., Brookhaven, PA 19015.
Visitation: Tuesday, September 26th from 6:00-8:00PM at the Minshall Shropshire-Bleyler Funeral Home, Ltd., Middletown (Rte. #352) & Knowlton Rds., Middletown Twp., Media, PA 19063, and Wednesday, September 27th from 10:00-11:00AM at Our Lady of Charity Church.
Interment: SS. Peter & Paul Cemetery
Memorial donations may be made to: Our Lady of Charity Church, at the above address, St. Vincent's Academy, 207 East Liberty St., Savannah, GA 31401, Little Sisters of the Poor, 185 Salem Church Rd., Newark, DE 19713.