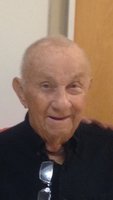 Edwin T. Murray, Jr.
Edwin Thomas Murray Jr. (Ed), age 84, of Middletown Twp., Media, PA, passed his caring and loving spirit on from this Earth at 1:38 AM on Friday December 28that Riddle Memorial Hospital in Media.
Son of Edwin Murray and Mary C. Storr, Ed married his high school sweetheart, Helen Russel Murray, in 1954. Beloved brother to, Capt. Robert Murray (83), devoted husband to Helen, loving father to Edwin III and wife Lori, Robert and wife Suzanne, Diane Miles and Lynn Walsh and husband John, Ed was every idea of what a family pillar should be. He was also a loving PopPop (grandfather) to Edwin IV, Rachael, Holli, Jill, Jaclyn, Robert Jr., Angela, Eamonn, Cillian, Cael and TopPop (great-grandfather) to Carter (deceased), Vika, Alastor and Nora.
Ed was one of four children, along with brother Robert, sister Molly Trippler (deceased) and brother Clarence (deceased.)
A graduate of Eddystone High School, Ed moved on to CH Wheeler machine shop. He progressed to IOT, then Maritrans before retiring from Express Marine in 2004. Even in retirement, with the ability to travel and reap the rewards of his hard work over 43 years of service, Ed chose to remain local as much as possible, as his purpose was here and to help others. His phone was never far away, as a missed call could have been a missed opportunity.
Ed was an avid golfer and enjoyed vacationing to Myrtle Beach with his wife, annually. He also enjoyed vacationing with his extended family in Fenwick Island, Delaware where he frequented Dairy Queen both openly and inconspicuously.
Upon his retirement from engineering, his services to his community were hardly finished. He was a regular speaker at AA meetings and a mentor to many struggling with the disease of addiction over the past 25 years. He openly spoke about his personal struggle with alcoholism and how it is never too late to make the necessary changes in one's life. His love for family and humanity were stronger than addiction, as he continually reminded us that only WE are given the ability to make choices in our daily lives. "The choices we make will determine our fate" was a favorite quote of his.
An enthusiastic sports fan, Ed's love for spectator sports spilled over into his grandchildren's athletic careers, where Helen and he rarely missed a grandchild's sporting event. Ed was rewarded for his lifelong devotion to Philadelphia sports and the Eagles with the Super Bowl win in February, 2018.
Family members and friends are invited to gather for a viewing on Friday, January 4th at 9:30-10:45 AM at Minshall Shropshire-Bleyler Funeral Home, Ltd., Middletown (Rte. #352) & Knowlton Rds., Middletown Twp., Media, PA 19063.
Service will immediately follow at 11:00 AM at the funeral home.
Interment will be private at the convenience of the family at Edgewood Memorial Park, Glen Mills, PA.
In lieu of flowers, please donate to the Thomas Jefferson Sidney Kimmel Cancer Center, at https://giving.jefferson.edu/giving/online-giving/skcc.html.