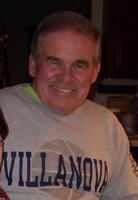 Thomas J. Ryan, Jr.
Thomas J. Ryan Jr., age 77, of Glen Mills, PA, formerly of Aston, PA, passed away on Wednesday, April 24, 2019. Tom was a proud graduate of Villanova University, Class of 1969. Tom was Vice President of PNC Bank, retiring after many years of service. After retirement, he worked with Cellini's preparing tax documents. Tom was a US Air Force Veteran, where he served as a medic. He was an avid golfer and bowler, and he loved watching his Villanova Wildcats. Tom loved his grandchildren most of all.
Son of the late Thomas J. and Elizabeth West Ryan, Sr., brother of the late Pat Ryan, uncle of the late Maureen Fox.
Children: Jennifer (Sam) Goldfarb, Thomas (Sherrie) Ryan, Matthew (Rhoni) Ryan and Bridget (Jim) Casar
Grandchildren: Alex, Mackenzie, Owen, Abby, Izzie, Jack, JT, Emme, Maggie and Drew
Siblings: Maureen Arroyo and Jim (Joni) Ryan
Also survived by beloved nieces and nephews
Visitation: Tuesday, April 30th from 9:30-10:15AM at the Church of St. Joseph, 3255 Concord Rd., Aston, PA 19014.
Funeral Mass: Tuesday, April 30th at 10:30AM at the Church of St. Joseph.
Interment: SS. Peter & Paul Cemetery, Springfield, PA.
In lieu of flowers, memorial donations may be made to: American Lung Association, National Direct Response Headquarters, 1200 Hosford Street, Suite 101, Hudson, WI 54016-9316, or www.lung.org