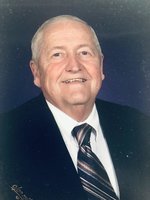 Robert L. "Bob" Wallace, Sr.
Robert Lewis Wallace, Sr., "Bob" age 86, of Aston Twp., PA, formerly of Chester, PA, died Friday, May 3, 2019, at Sunrise Assisted Living, Media, PA. Bob was born September 1, 1932 in Chester, PA. Mr. Wallace graduated from Chester High School in 1950 and received his Associate Degree from PMC (Pennsylvania Military College). He was a US Army Veteran who served during the Korean Conflict. Bob went on to have an extensive career with the Delaware County Daily Times, where he was employed for 57 years as a Classified Ads Salesman.
Mr. Wallace was a member of St. Timothy's Lutheran Church for 56 years. He was a member of many organizations that included Penn Masonic Lodge #709 F&AM; American Legion Post #926, Aston, PA; Optimist Club, where he served as President; Boy Scouts Troop 292, where he served as Assistant Scout Master; and Order of the Arrow. Bob was also the recipient of the Four Chaplains Award.
Bob's hobbies included fishing, boating, travel, golf, bowling and spending time with his family.
He was the son of the late William F. (Susie Smith) Wallace; father of the late Robert Lewis Wallace, Jr.; brother of the late William Frederick Wallace, Atwood Wallace and Sue Belle Bengisser; son-in-law of the late Joseph and Adele Greenwalt; and 5 sister-in-laws and 5 brother-in-laws.
SURVIVORS:
Devoted Wife of 58 years, Shirley Greenwalt Wallace
Loving Daughter, Wendy Jane Wallace (husband Gary Varney)
Loving Grandchildren, Olivia R. Varney, Robert J. Varney, Adeline M. Varney, Kaitlin Wallace Bradley (Harrison Bradley), Kierstin Wallace Butts (Matthew Butts) and Samantha E. Wallace
Great-Granddaughter, Miriam Elizabeth Bradley
Sister-in-law, Jean Wallace
Visitation: Thursday, May 9, 2019, 10:00-10:45AM at St. Timothy's Lutheran Church, 535 Lamp Post Lane, Aston, PA 19014.
Masonic Service by Penn Masonic Lodge #709 F&AM at 10:45AM
Funeral Service: Thursday, May 9, 2019 at 11:00 AM at the church.
Interment: Asbury Methodist Church Cemetery, Allen, MD will be private.
Donations may be made in Robert's name to: St. Timothy's Lutheran Church, 535 Lamp Post Lane, Aston, PA 19014.