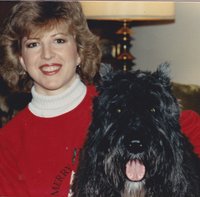 Susan T. Roger
Susan (Pepino) Roger, age 61, of Middletown Twp., Media, PA, died on Sunday, May 5, 2019 at home.
Born in Philadelphia, PA, she was the daughter of the late Joseph and Theresa Pepino. She was a graduate of Strath Haven High School.
Susan had been employed by the Franklin Mint and later by the District Attorney's Office of Delaware County. Most recently she was a legal assistant at her husband's law firm.
Susan enjoyed cooking, baking and was an avid reader. She also served as a Judge of Elections for Middletown Township.
She is survived by her husband Douglas C. Roger, her daughter Nora Roger, Sister Kathy (Jerry) Guarini and her brother Paul Pepino. Also survived by her nephew Justin Guarini.
Friends may call on Friday, May 10th after 9:30 at The Church of Our Lady of Charity, 231 Upland Rd. Brookhaven, PA 19015.
Funeral Mass: Friday, May 10th at 11:00AM at the Church.
Interment: Private at SS. Peter & Paul Cemetery.
Memorial Contributions: Providence Animal Center, 555 Sandy Bank Rd., Media, PA 19063