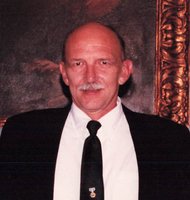 George F. Moyer, Jr.
George F. Moyer, Jr., age 85, of Glen Mills, PA, died Sunday, June 23, 2019. He is survived by his dear wife, Diana Gay Flowers Moyer and three sons: James Michael Moyer of Orlando, FL, Gary Kell Moyer and his wife Marla, of Bortondale, PA, and Martin Alan Moyer at home, also survived by 4 grandchildren and 2 great-grandchildren. He was the son of the late George Franklin Moyer, Sr. and the late Emma Elizabeth Martin Moyer.
George graduated from Media High School on June 9, 1952 and left to join the Marine Corp the next day. He served in the Marines for 3 years. After his service, he worked and attended Temple University part time receiving a BA degree in Business in January 1962. He retired as an Industrial Engineer from Phoenix Steel in Claymont, Delaware and Boeing Corporation in Ridley Park, PA.
In 1995 George and Gay had a house built in the mountains of Susquehanna County. It was a favorite place to be away from the hustle and bustle of life in Delaware County. It was a place where he could putter around outside and do a lot of bird watching. There were chipmunks that would come when he called them to take peanuts from his hand.
George was an avid sports fan of the Philadelphia sports teams especially the Phillies. His favorite hobby was genealogy. He was a member of the Historical Society of Montgomery County and the Lancaster Mennonite Historical Society, where he did genealogical research. His research is online at Ancestry.com.
George was a life member of Middletown Fire Company #1 although his age and health kept him from being active.
He was preceded in death by an infant son, George Franklin Moyer III.
Visitation: Monday, July 1st after 10:00AM at Minshall Shropshire-Bleyler Funeral Home, Ltd., Middletown (Rte. #352) & Knowlton Rds., Middletown Twp., Media, PA 19063.
Funeral Service: Monday, July 1st at 11:00AM at the funeral home.
Interment: Media Cemetery.
In lieu of flowers, memorial donations may be made to: Wounded Warriors Project at www.woundedwarriorproject.org/Donate‎