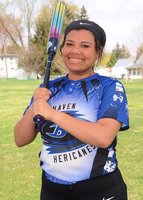 Amber Marie "Ams" Zigmund
Amber M. Zigmund, "Ams" age 17, of Brookhaven, PA, died Friday, June 28, 2019 with her loving family by her side. Amber was born May 12, 2002. She was a student at Sun Valley High School. Amber played softball for Sun Valley High School and Brookhaven Herricanes.
Ams loved the beach, outdoors, sunshine and was always smiling. She aspired to go into the field of science one day, but, in the meantime, loved any science class available. Ams was adored by her youngcer siblings who she always took time to play with. She loved family time together as well as chilling with her friends. Amber was quick to laugh and make those laugh around her. When at home her dog Stella was always by her side, right along with her cell phone, like any teenager. Amber was known for her love of Chick-fil-A and Starbucks Strawberry Frappuccino.
Amber has touched many lives and will be missed by all.
Visitation: Wednesday, July 3rd from 10:00AM-12:45PM at the Minshall Shropshire-Bleyler Funeral Home, Ltd., Middletown (Rte. #352) & Knowlton Rds., Middletown Twp., Media, PA 19063.
Funeral Service: Wednesday, July 3rd at 1:00PM at the funeral home.
Interment: Private.
In lieu of flowers, memorial donations may be made to: Ams's Smile Fund Account # 6267-287307, C/O Citizens Bank, 5001 Edgmont Ave. Brookhaven, PA 19015.