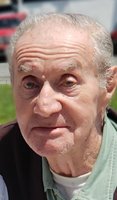 Matthew J. "Matt" Canning
Matthew J. Canning, "Matt" age 93, died peacefully on Wednesday, July 3, 2019.
He was born November 8, 1925 in Philadelphia, PA, and educated in the Philadelphia public schools. Matt was employed as an electrician for 45 years with Amtrak (previously The Pennsylvania Railroad), retiring at age 70; as a former railroader, Matt was proud of his induction into The Railroad Museum of Pennsylvania in Ronks, PA. He was a Veteran of the U.S. Marine Corp, serving in World War II. Mr. Canning was a Charter Member of St. Timothy's Lutheran Church in Aston, PA, where he was active for many years, serving on Church Council, Parish Activities Committee and Building Maintenance Committee. He was a long-time member of the Aston Senior Citizens Club and previously active in delivering Meals on Wheels. Matt was a long-time fan of the New York Yankees, and former season ticket holder of the Philadelphia Phillies. The most important part of Matt's life was his family.
Son of the late Matthew Canning of Wildwood, NJ and Georgette Obermeier Canning of Philadelphia, PA, brother of the late Charles Canning of Philadelphia, PA, Godfather of the late Jeffrey L. Boileau of Moorestown, NJ. Predeceased by Sisters-in-law, brothers-in-law and many friends.
Survivors:
Devoted husband for 68 years of Margaret Anna (Ann) Sunderland Canning of Aston, PA
Loving father of Diane Canning and her husband, William Wright, of Upper Chichester, PA
Uncle to 8 nephews and 6 nieces
Visitation: Wednesday, July 10th after 11:00AM at St. Timothy's Lutheran Church 535 Lamp Post Lane Aston, PA 19014.
Funeral Service: Wednesday, July 10th at 12Noon at St. Timothy's Lutheran Church.
Interment: Edgewood Memorial Park.
Memorial Donations may be made in Matt's memory to "The Friends of The Railroad Museum", P.O. Box 125, Strasburg, PA 17579; reference "Memorial donation in memory of Matthew J. Canning" on your check.