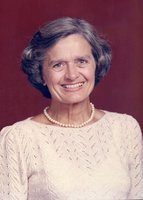 Clarice H. Hall
Kathleen Clarice Hamilton Hall (who for many years went by the nickname of Claire), died on August 4, 2019, at the age of 94, at her home in Glen Mills, Pennsylvania.
Claire was born on March 27, 1925, outside of Kutztown, Pennsylvania, to Ruth Detweiler Hamilton & Earl Ezekiel Hamilton. During freshman year at Penn State University she met Robert Wayne Hall, just weeks before he was drafted to serve in Europe during World War II. Claire & Bob were married in April of 1946, when Bob returned from the war, a marriage of almost 66 years; Bob died in November of 2011.
While Bob was overseas, Claire completed her bachelor's degree in home economics & began teaching in the Darby School District, where she taught for five years, before she & Bob began their family. For the rest of her life (from 1950 until this past week), Claire was a fulltime mom & grandma.
Claire was a long-time (& charter) member, along with Bob, of Concord Liberty Presbyterian Church, where she & Bob also sang in the choir, as both had at numerous other churches they attended during their lives. They also shared loves of gardening, sailing, traveling, & reading, & Claire spent most of her lifetime also baking, sewing, quilting, & knitting. Time never hung heavily on either of their hands.
Claire is survived by her sister Joan Hamilton (of Boston); sons Robert Hall (of Hockessin, Delaware), & James Hall (of Glen Mills); daughter Kathleen Hall-Ditchfield (of West Grove); granddaughters Rebekah Hall (of Virginia Beach), Sarah Graves (of Glen Mills), & Emily Ditchfield (of West Grove); & grandsons Jonathan Hall (of Cleveland, Tennessee), & Jeremy Hall (of Alexandria, Virginia).
A graveside service will be held at 11 a.m. on Friday, August 9, at Faggs Manor Cemetery, in Cochranville, Pennsylvania. A memorial service will be held at Concord Liberty Presbyterian Church, Glen Mills, date & time to be determined. Contact Kathleen Hall-Ditchfield for more information, at (610) 331-4371.
At the time of Claire's death, sale was pending to Concord Township of 14 acres of the family home of 57 years, Smallbrook Farm. In upcoming months, the township will be installing walking trails on this portion of the farm, to be enjoyed by the public as preserved open space. This preserve will be dedicated to Claire & Bob.
Claire's memory can best be honored by those who cared about her cherishing their own loved ones; this was her gift.