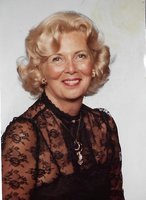 Barbara Swanson-VanZandt
Barbara Swanson VanZandt, age 89, currently of Rolling Glen of Boothwyn, PA, lived in Aston, PA, for 30 years, followed by Middletown Twp., Media, PA for 26 years, died Saturday, August 17, 2019.
She was the widow of William O. Swanson who died in 1981 and with whom she had two children, Eric Swanson, Port Charlotte, Florida and the late Holly Swanson Booth, Boothwyn, PA. She had 2 grandchildren and a great-granddaughter and great-grandson.
Married in 1986 to W. Robert VanZandt, DDS, she was widowed in 2012.
Her parents were Charles A. and Elva Cheyney Roehrig. Born and raised in Chester, PA, she graduated from Chester High School in 1947 and attended Moore Institute of Art.
She was employed as a correspondent for the Daily Times, prior to becoming an office manager for Nationwide Insurance.
She and Dr. VanZandt traveled extensively and enjoyed the antique car hobby.
Active with the General Federation of Women's Clubs from 1975, she served 2 terms as President of her local Aston Club, served at district and state levels as well as Delaware County President from 1994-1996.
Visitation: Thursday, September 5th, after 10:30AM at the Restoration Presbyterian Church of Boothwyn 2655 Chichester Ave, Boothwyn, PA 19061.
Memorial Service: Thursday, September 5th at 11:00AM at the Restoration Presbyterian Church.
Interment: Private at Chester Rural Cemetery.
In lieu of flowers, memorial donation may be made to: Restoration Presbyterian Church of Boothwyn, at the above address.