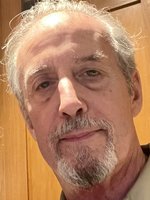 David DiSabatino
David DiSabatino, age 73, of Wilmington, DE, formerly of Chester, PA, died February 18, 2021. Dave was born January 18, 1948 and graduated from Chester High School. He was a retired rug salesman from Kenneth Mink, but worked part-time at Home Mattress Center.
Dave served in the Air National Guard. He loved cars, stereos, music, music equipment and especially WXPN.
He was predeceased by his parents Stella and Pace DiSabatino
Survivors:
Daughter: Crisa (Mike) Dougherty
Sister: Gloria (Frank) Senatore
Grandchildren: Marykate, Megan, Michael, and Cristina Dougherty
Services and Interment will be private.
Memorial Donations may be made to: Christiana Care Office of Development, Helen F. Graham Cancer Center & Research Institute, 400 Nexus Drive, Suite W3-300, Wilmington, DE 19803