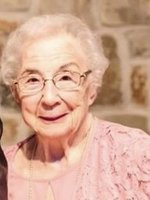 Joan Metzger
Joan Hyland Metzger, age 91, of Media, PA, died on Thursday, February 18, 2021 at Granite Farms Estates. Born June 23, 1929, Joan was a graduate of Irvington High School. She was employed at Gulf Oil Corporation and Neumann University (formerly Our Lady of Angels College). Joan enjoyed reading, knitting, games and watching Downton Abbey.
Predeceased by her husband, George A Metzger, her mother, Helen Hyland, father, Herbert Hyland, sister, Barbara Hunt, brother, Mortimer Hyland
Survivors:
Daughters: Susan Metzger, Melanie Dougherty (Jay), Elizabeth Bittner (John);
Grandchildren: Jillian Dougherty Laude (Evan), Colleen Dougherty, Audrey Metzger Bailey, Madeline Bittner Miller (Michael), Jack Bittner (Emily), Melanie Bittner
Great-grandchildren: Noah Laude, Molly Miller, Mya Miller, Maizy Miller, Avery Bittner
Services and interment will be private
Memorial Donations: Wounded Warrior Project, P.O. Box 758516, Topeka, KS 66675-8516.