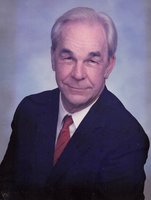 Kenneth L. Copeland, Sr.
Kenneth L. Copeland, Sr. age 99, of Media, PA, formerly of Williamsport, PA, died on Tuesday, February 16, 2021. Born and raised in Harrisburg, PA, he was a 1940 graduate of John Harris High School.
Ken served in the U.S. Army Corps of Engineers for 25 years, retiring in 1966 with the rank of Major.
During his military service, he continued his education through the University of Maryland. Ken's war time service included both World War II and Korea. In WWII he spent four month's training with the British Commandos, in preparation for D-Day. From there it involved crossing the channel, moving through France, Belgium, Holland and across Germany to Regensburg, when the war ended. For these campaigns he was awarded two Battle Stars and a Presidential Citation.
His peace time service included two-three tours to Japan. One tour with General Chenault, as a military advisor to the Chinese Nationalist Army in Taiwan, plus assorted assignments to Midway, Wake, Okinawa, Hawaii and Hong Kong. He also served as a military advisor to the Saudi Arabian Army plus assorted assignments and trips to Libya, Egypt, Asmara, The Holy Land, Bahrain, Pakistan, New Delhi, the Taj Ma-hal and Bangkok, he spent over four years on occupation duty in France and Germany, which included assorted assignments in all of the Western European countries including Russian occupied East Berlin.
After military retirement he worked for the Kennedy Space Center and later the Penna. Railroad. At this point he bought a house in Middletown Township, where he lived for the next 22 years. He subsequently left the railroad and went to work for the U.S. Economic Development Administration and retired in 1984.
Ken received the following medals and awards; Atlantic Campaign Ribbon, European Theater Ribbon (3 stars), German Occupational Medal, Battle of the Bulge (1 star), WWII Victory Medal, WWII Occupational Medal, Korean Service Medal, United Nations Korean Service Medal and the Presidential Unit Citation.
Ken was a member of the Lima United Methodist Church, and Pine Street Methodist Church.
Ken was a member of the Lodge #707 F&AM, Scottish Rite Consistory, where he was a 50-year member.
He was active at his home community Riddle Village, where he was a member of the Oaks Club, the men's choir, a resident council floor representative, woodshop and dinning community. Ken was proud of the Veteran's Day Program that he created and directed.
Ken enjoyed model trains and sharing them with his neighbors and friends over the holidays when he displayed them. He was a season ticket holder and devoted fan to Penn State Football.
Husband of the late Elizabeth Ann Copeland, who died in 1985.
Survivors:
Wife: Jean Shaffer Copeland
Daughter: Constance Marie Jones (Don)
Son: Kenneth L. Copeland, Jr.
Also survived by 2 Step-Sons and a Step-Daughter
Grandchildren: Rob (Mary) Jones, Kristi (Dan) Hanifin, Rick Jones, Katie Copeland, Jessie Copeland and Jason Copeland
Great-Grandchildren: Maeve, Aileen, Blaise, Mackenzi and Michael
A Graveside Service will be held privately in the Spring.
In lieu of flowers, memorial donations may be made to the Riddle Village Endowment Fund, 1048 W. Baltimore Pike, Media, PA 19063.