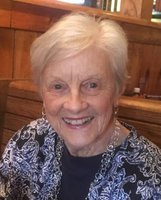 Marcia Ann Ems
Marcia Ann Ems, age 87, died Friday, April 9, 2021 after a lengthy and hard-fought illness. She was a resident of White Horse Village, Newtown Square, PA, and formerly of Wallingford, PA, and Beaverton, OR. Marcia was born June 17, 1933 in Aurora, IL. She was a graduate of West Aurora High School, Class of 1951 and received a BS Degree in Elementary Education from the University of Illinois, Class of 1955. She had been employed as an Elementary School Teacher from 1955 to 1959 in Illinois and Oregon.
Marcia was a former member of Swarthmore United Methodist Church and a current member of the Lima United Methodist Church. She was also a member of the Rose Valley Folk, and volunteered with The Welcome Wagon, as well as Meals on Wheels for many years.
She was an excellent baker and known for her award winning apple pie. Marcia enjoyed gardening and flowers, Bridge and Gin Rummy, golf and tennis. She enjoyed traveling and visited 5 continents and over 20 Countries. She spent winters in Hillsboro Beach Florida.
Daughter of the late E. A. Dick and Mary Louise (Lloyd) Rieckman.
Survivors:
She was a wonderful wife for almost 65 years to her husband: Richard W. Ems
Mom to Steve (Pia) Ems, Brian (Heather) Ems, Jennifer (Micky) Urquhart
Grandma to Derek Ems, Tyler Ems, Connor Ems, Alisen Maiola, Michael Urquhart, Ryan Ems,
Colin Ems and Gavin Ems
Funeral Service will be private.
Memorial donations in memory of Marcia Ann may be made to: Lima United Methodist Church, P.O. Box 158, Lima, PA 19037, American Cancer Society to www.donate3.concer.org, American Alzheimer's Association, www.act.alz.org/donate