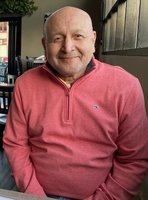 Luis A. Ramos
Luis A. Ramos, age 67, died on April 14, 2021 at Riddle Memorial Hospital. He was born in San Salvador, El Salvador and attended college.
He was employee at William A. Schmidt for more than 29 years. He started as a welder, fitter, shop floor supervisor and for the past 11 years as a design engineer.
Luis was a member of Media Monthly Meeting.
Son of the late Emilia Flores Zeledon; The Rivera Family: sister, Zoila; brother-in-law, Herminio; niece, Brenda and nephew, Ernesto
Survivors:
Wife: Sonia Ramos
3 Children: Susana Ramos, Nelson Ramos and Corina Ramos
5 Grandchildren: Daniel, Manuel, Gerardo, Sebastian and Samuel
Daughter-in-law: Lara
Services and interment will be private.