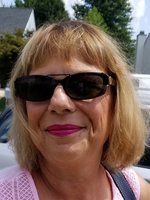 Janet Pearl
It is with great sadness that the family of Mrs. Janet M. Pearl of Brookhaven, PA, announce her passing on Sunday 04/25/2021. Janet was called home to be with the lord after a hard and long fought battle with Cancer.
Janet leaves behind a long and lasting legacy of family first, find joy in all things, and never giving up in the face of adversity or conflict. Janet met her husband Jeff when they were both just teenagers. Working together at the same company and then working together forever to create a life, raise children, have grandchildren and face everything together with love, respect and sometimes compromise. Janet's love of all things is an inspiration in her family's everyday life. The passion she had for animals and flowers particularly stands out. Her final pets were Frankie, Smokey, Opal and Lexi. 1 dog and 3 cats that she loved and cherished until she was called home.
Janet was proceeded in death by her Mother Mary (Cardile) DeTurk and her Father Joseph Salmieri. Janet is survived by her husband of 44 years Jeffrey H. Pearl Sr., her two sons Jeffrey H. Pearl JR. (Amanda, two grandchildren Gianna and Jeffrey III,) her youngest son of FL, Jason M. Pearl grandson (Tyler) both sons are veterans of the armed services, and her step-father of Reading, PA, Donald DeTurk.
Her 2 Sisters, Anna Marie Millili-Bierds (Michael) NJ and Nina Impagliazzo (Mark) of PA, her 2 brothers (Joseph Salmieri of NJ (Lorraine), and Anthony Salmieri (Cindy) of PA as well as multiple nieces and nephews.
Services are private.
Any donations should be made in Janets name to The American Cancer Society. Any cards and/or condolences can be left online or can be mailed to 608 S. Old Middletown Rd., Media, PA 19063. Reference: Pearl Family
"Our Family is a circle of love and strength. With every new birth and every new union the circle grows. With every Joy shared we add more love, with every crisis faced together we grow stronger."