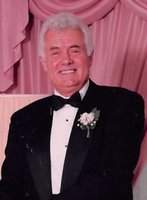 Enzo Carnaroli
Enzo Carnaroli, age 91, of Aston, PA, formerly of Philadelphia, PA, died Saturday, July 3, 2021 at home. Enzo was born in Fano Italia. He was a Veteran of the Italian Army, serving from February 21, 1950 – February 18, 1952. Enzo was a Senior Ceramic Tile Setter, and was in the Ceramic Tile Union #32 that became Local #1 in 1995. He was employed at the Bricklayer & Allied Craft workers Local #1 in PA/DE. Enzo retired in 1995
.
Enzo married Joan in 1995, and always said marrying a younger woman is what kept him living a full and happy life. He truly enjoyed spending time in Ocean City, NJ, he loved his pool and his two Siamese Cats, Layla Joy and Reilly Rose.
Husband of the late Lina (Franceschelli) Carnaroli; son of the late Arturo and Giuseppa Carnaroli; brother of the late Pasquina (Carnaroli) Uguccioni; and twin brothers, Augusto and Eliseo Carnaroli
Survivors:
Loving and adoring wife: Joan (Reilly) Carnaroli
Daughter: Josephine (Carnaroli) Brecht and her husband, John
Visitation: Monday, July 12th from 10:00-10:45AM at Minshall Shropshire-Bleyler Funeral Home, Ltd., Middletown (Rte. #352) & Knowlton Rds., Middletown Twp., Media, PA 19063.
Funeral Service: Monday, July 12th at 11:00AM at the funeral home.
Interment: Calvary Cemetery, Conshohocken, PA.
In lieu of flowers, memorial donations may be made to: Animal Coalition of Delaware County, www.acdc.ws and the Providence Animal Shelter, 555 Sandy Bank Rd. Media, PA 19063.