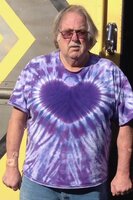 James S. McCormick, Jr.
James "Jimmy" McCormick, 72, of Exton, PA formerly of Springfield, PA passed away on September 9, 2021 at Lankenau Hospital.

He was preceded in death by his father James S. McCormick, his mother Ruth Vera McCormick (Hawley) and his brother Guy Allen McCormick. Jim was a 1966 graduate of Springfield High School (Delco), and a 1970 graduate of Villanova University. He worked as an auditor for PNC bank, distributor for the Philadelphia Bulletin and the Philadelphia Inquirer and served in the Army Reserve during the 70s.

Jimmy was known for his yellow "Streakers" delivery truck as he delivered various bakery products across Delaware and Chester counties for years, until his retirement in 2015. He was a dedicated family man, especially as PopPop to his grandchildren; known for his storytelling and ability to converse with anyone he met; passion around his ancestry, Florida Gators football, Villanova basketball and being young at heart.

He is survived by his wife Mary Donovan McCormick; three children, Lara Dushkewich (Tom), Kyle McCormick, and Colin McCormick (Rachael); two grandchildren Noah and Penelope; brother, Michael McCormick (Marlene) and sister, Sandy Hess (Jeff), 7 nieces and nephews and 8 granddogs.

Due to COVID, services and interment will be private. A memorial service will be held at a later time.

In lieu of flowers, donations may be made in his honor to: Children's Hospital of Philadelphia or Domestic Violence Center of Chester County.