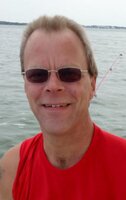 Nathaniel E. "Nat" Stinson, Jr.
Nathaniel E. Stinson, Jr., "Nat" "Nattie" age 56, of Brookhaven, PA, died Wednesday, November 17, 2021. Nat was a graduate of Sun Valley High School, Class of 1983. He then attended Aviation Training. Nat was employed with Boeing as an aircraft mechanic for 36 years, until retiring in 2020.
Nat was an active longtime member of Upland Fire Company #1. Nat enjoyed fishing and hunting with his family at their home in Forksville, Sullivan County, PA. He loved dogs, especially Jada, Kirby and Princess.
Son of the late Nathaniel E. Stinson, Sr.
Survivors:
Mom: Donna Stinson
Wife: Dottie Stinson
Sister: Pamela (Jeff) Dowlin
Son: Christopher Smith
Granddaughter: Stormy Rae
Nieces and Nephew: Jessica, Richard and Natalie
Mother-in-Law: Lillian Giuliano
Sister-in-Law: Dawn (Rick) Settine
Step-Son: Louis Macauley
A celebration of Life will be held on Saturday, November 27th at 7:00PM at the Sundance Saloon, 3531 Concord Rd., Aston, PA 19014.
In lieu of flowers, memorial donations may be made to: Providence Animal Shelter, 555 Sandy Bank Rd., Media, PA 19063.