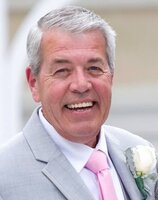 Robert Leo Albrand
Robert Leo Albrand, 69, of Chester Heights passed away peacefully on March 21, 2022 surround by his loving family.
Bob was born to John and Jennie Albrand on September 28, 1952. After spending his memorable childhood in Upland, he graduated from Collingdale High School in 1970. He then joined and served in the US Air Force.
After returning home, he married Marcia Taylor on September 6, 1980. He worked for AMI as a technician installing mainframe computers all around the world for almost 20 years. He was later employed by Monroe Energy as an operator until his retirement in 2021. Bob was a longtime member of Concord Lodge and Nur Shrine.
Bob enjoyed weekend trips to the Poconos with his childhood friends, Sunday morning coffee with his sister and brother, family summer vacations in Cape May, and never missed a NASCAR race. His seven beloved grandchildren were his pride and joy. Of all these things, he will be remembered most as an exceptional husband, father, and grandfather.
Bob is reunited in heaven with his father and mother, John and Jennie (Butler) Albrand, sister Nancy (Albrand) Wilson, and niece Cindy (Habbart) Carpenter.
Bob is survived by his wife Marcia, brother John (Judy) Albrand, children Casey Lynn (Shane) Murphy, Bobby (Maggie) Albrand, Makenzie Jane (Kevin) McGonigle, and Sandi Jo Albrand; grandchildren Jack, Kiley, Henry, George, Everett, Axel, and Lyla Grace; and nieces Beth Melville, Laurie Vandergrift, and Kelly Marro.
Join us to honor the memory of Bob on Thursday, April 21st at Upland Baptist Church, 325 Main Street, Upland, PA 19015 at 12:00 PM.
In lieu of flowers, please send a donation to Upland Baptist Church at the above address, or Shriners Hospital for Children.