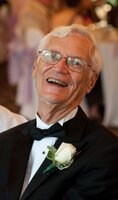 John "Ed" Gebhart, Jr.
John Edward "Ed" Gebhart, age 91, of Middletown Twp., Media, PA, a longtime columnist of the former Chester Times and the Delaware County Daily Times, died on Sunday, April 2, 2022 at Riddle Memorial Hospital.
Born on December 12, 1930, in Chester, PA, Ed graduated from Chester High in 1948 where as a senior, he reported on many of the school's away games for the Chester Times while also writing for the school newspaper. Following graduation he joined the Chester Times, initially in the advertising department, but soon departed for Oak Ridge Tennessee, where he became the youngest sports editor in the country for The Oak Ridger. He returned to the Chester Times in 1950, where he rejoined the advertising staff until he was called to service in the US Army in 1952. For two years, he served with the 19th Engineer Combat Group in Seoul, Korea, receiving an honorable discharge as a Corporal in 1953.
Following his service, Ed returned to the Chester Times, working as a sports reporter and eventually became the sports editor where his column, "Another View", was awarded six first-place Keystone Press Awards. In the early 70's, he crossed over to the news side of what was by then the Delaware County Daily Times and became City Editor. His column, "My Kind of Town", featured in-depth and nuanced insights into the personalities and events that shaped Delaware County. Crossing over one more time he left the Times for Sun Oil Company in the late 70's where he finished his career as a Corporate Press Relations Executive. In retirement, he returned to the Times to write weekly editorials about Delaware County until he penned his last article in November, 2015. His writing celebrated the achievements of thousands of Delaware Countians, among them, top ranked professional athletes, accomplished musicians, favorite school teachers, distinguished public safety officers, and the creators of the finest hoagies in the Tri-State area.
As a Chester High graduate, Ed was awarded the unique honor of earning a spot on the St. James High School Wall of Honor, and he was inducted into the Delaware County Old Timers Hall of Fame.
Ed was also an avid runner, who completed the Dixon Half Marathon and two Boston Marathons, and, before its February 1974 opening, he was the first person to run across the then nearly-completed Commodore Barry Bridge.
For more than 25 years, Ed ran an annual trip to Hawaii for the Times where he earned the nickname "Mr. Hawaii", and was amused and a little proud of the fact that he had spent more than a year in Hawaii, two weeks at a time.
Son of the late Ed Gebhart Sr. and Edna (Deacon) Gebhart; Father of the late Kirk Gebhart.
Survivors:
Loving wife of 46 years: Sharon Miller Gebhart
Sons: J. Edward (Cindy) Gebhart, III of Mercer Island, WA; Gerry (Kari) Gebhart of Middletown Twp., Media, PA, and Chris (Kelly) Gebhart of West Chester, PA
Grandchildren: Gennie Gebhart, Christopher Gebhart and Laura Gebhart
Visitation: Friday, April 8th from 10:00 -10:45AM at the Minshall Shropshire-Bleyler Funeral Home, Ltd., Middletown (Rte. #352) & Knowlton Rds., Middletown Twp., Media, PA 19063.
Funeral Service: Friday, April 8th at 11:00AM at the funeral home, followed by Military Honors.
Interment: Private.
In lieu of flowers, the family would prefer a donation to one of Ed's favorite charities: The Tunnel to Towers Foundation. https://t2t.org/ and/or United Mitochondrial Disease Foundation: https://www.umdf.org/