608 S. Old Middletown Road
Middletown Twp.
Media, PA 19063


Ph: (610) 876-4213
info@msbfh.com
Fx: (610)-874-6876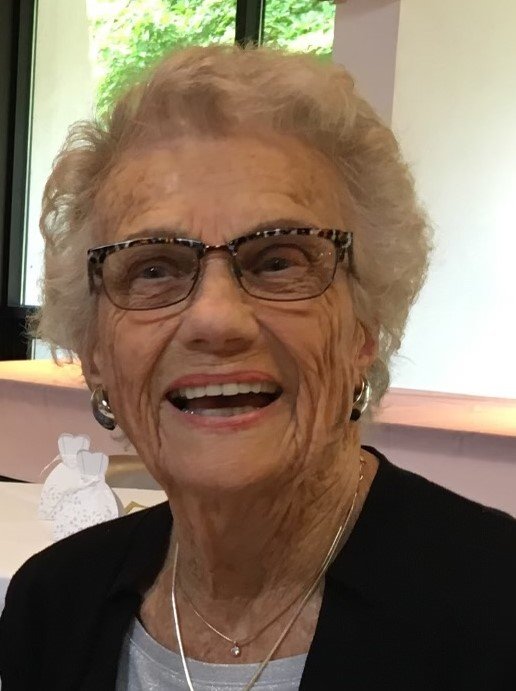 In Memory of
Gertrude Roderick
Tuesday, February 9, 2021
Obituary of Gertrude Roderick
Gertrude Tate Roderick (Trudi), 94, of West Chester, PA, died Tuesday, February 9, 2021.
Trudi was born on September 2, 1926, in Philadelphia, to the late Florence and James Tate.
She is preceded in death by her husband, Arthur D. Roderick, Jr., her son, Mark Arthur Roderick, and her grandson, Tate Francis Roderick.
She and her loving husband, Art, married in 1946. They lived in the Drexelbrook community for a short time, where they made many fond memories.
In 1950, they moved to Springfield, Delaware County. They raised their four children there, and created many life long friendships. During her years in Springfield, Trudi was active in the Springfield Junior Women's Club and later the Springfield Women's Club, serving on the board. She ran the Riddle Hospital Thrift Shop and taught nursery school. It was also during this time, that she learned to play bridge. It was the beginning of a life long passion, for the game she loved so dearly.
After Art's passing in 1991, Trudi moved to the Inverness Village at Hershey's Mill in 1993. She was extremely active in her community. She was a member of the Inverness Women's Bridge Club and the Friday Bridge Group, of which she was also the publicity chair. She played duplicate bridge at Hershey's Mill Golf Club and participated in club team play. She continued to improve her bridge game by taking lessons. She also volunteered at the Hershey's Mill Library, Hershey's Mill Pool, election polls at Hershey's Mill, and the Paoli Hospital Thrift Shop.
Through her love of bridge and her active social life, she was blessed with many friendships, which she cherished dearly.
In 2019, Trudi moved to The Court at Wellington, where she was a resident in Assisted Living. She continued to play bridge, often returning to Hershey's Mill to join her friends in a game or two. She also volunteered by visiting other residents in their apartments and she enjoyed redecorating the sitting areas in The Court.
Trudi was so grateful for the kindness and support she received from the nurses and aides at Wellington. She was a true advocate for them, while she lived there. Their caring and kindness was always so appreciated, especially during her final days.
Trudi loved the beach, especially Ocean City, NJ. She was an avid reader, loved to travel, dance, (most notedly at her granddaughters' weddings) and spend time with her family. Trudi never watched the world pass her by, she always found reasons to be involved.
Trudi will be deeply missed by her family and many friends.
She is survived by her children, Arthur D. Roderick, III (Skip), husband of Lois, Lititz, PA, Luke Tate Roderick, husband of Robyn, Wallingford, PA, and Gail Loraine Kelly, wife of Brian, Palm Beach Gardens, FL, her 5 grandchildren, Kathleen Hurley (Frank), Brian Kelly, Luke Kelly, Katelyn Day (Jon), Meghan Roderick and 2 great-granddaughters, Rosemarie and Margaret Hurley.
She is also survived by her brother, James Tate, husband of Carol, State College, PA, and several nieces.
Due to Covid 19, services will be private.
In lieu of flowers, if you choose to, please make donations in memory of Trudi Roderick to: VA Hospice of Coatesville, 1400 Blackhorse Hill Rd., Coatesville, PA 19320.
Share Your Memory of
Gertrude