608 S. Old Middletown Road
Middletown Twp.
Media, PA 19063


Ph: (610) 876-4213
info@msbfh.com
Fx: (610)-874-6876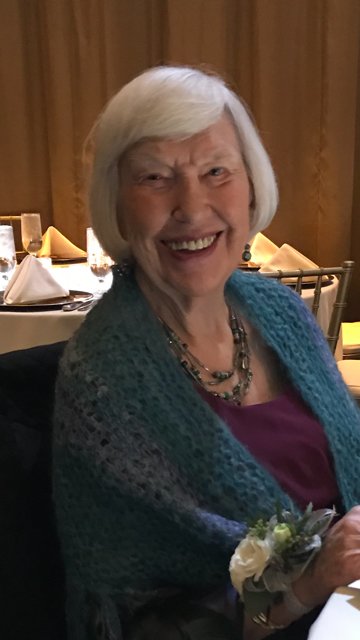 In Memory of
Jane Roe Cosinuke
Sunday, July 4, 2021
Obituary of Jane Roe Cosinuke
Jane Roe Cosinuke age 93, passed away on July 4, 2021. She was living at White Horse Village in Newtown Square, Pennsylvania.
The child of Georgia Dailey Roe and Malcolm Ralph Roe, Jane was born January 22, 1928 in Chana, Illinois. As a young girl, Jane lost most of her hearing from Scarlet Fever. In her childhood she attended the two room Chana School and sat next to her teacher so she could hear. Later, Jane attended Rochelle High School and earned a Bachelor's degree in Home Economics from the University of Illinois. Upon graduation, Jane worked as a home economist for Illinois Public Service Company educating rural families about the benefits of new electric appliances.
During one of her work trips, Jane met a determined young man named Walter Cosinuke who persisted in asking her for a date until she relented. They were married on September 1, 1950, at the Lighthouse Church in Chana, Illinois.
Jane and Walt moved to Rose Valley, Pennsylvania, a community that would become Jane's beloved hometown for 53 years. There, she and Walt raised three boys and she immersed herself in their community. Jane worked at The School in Rose Valley, where her three sons attended K-6th grade as an assistant preschool teacher and later as a librarian. She was very active in leading, or participating in, the school's bake sales, Christmas and May Fairs and weekend "Putter Days". She also became the only woman, at that time, to join the leadership ranks of the Rose Valley Boy Scout Troop 272.
Jane was a passionate and skilled gardener and horticulturist. She attended courses at the Barnes Foundation and loved designing and working in her gardens. She was a member of the Swarthmore, Pennsylvania Garden Club and worked on exhibits for the Philadelphia Flower Show on numerous occasions. She took the lead role for many years in maintaining the Caleb Pusey colonial garden in Upland, Pennsylvania and the garden at Media 3rd Street Quaker Meeting. She took great pride in her personal gardens in Rose Valley, and also at White Horse Village.
With the influence of her friends and neighbors the Lippincotts, Jane began to take interest in the Quaker religion. She and her family became members of the Providence Friends Meeting, and later, the Media Friends 3rd Street Meeting where she also maintained the gardens. She was also a member of the board of directors of the Media Friends School.
Jane also had a love for games and competition. In the 1960's, she took up tennis with her family and became an avid and successful tennis player while participating in league play and the Rose Valley tournaments. She played tennis until age 80. At White Horse Village she loved competing at Bridge, Croquet, Bocce, and was the captain of a champion Wii Bowling team.
Jane also enjoyed working with and travelling with Walt and together they enjoyed many trips around the country and to Hawaii, Europe and China where she even visited the Great Wall.
Jane had a wonderful mid-western sense of humor and a warm, infectious energy about her. She adored her children and grandchildren and with her husband Walt, embraced their friends and partners as her own. Over the years she served countless delicious dinners to unexpected guests with grace and a smile, and a hug after the dishes were done.
Jane is survived by her children Thomas R. Cosinuke and Anne H. Kelton, Robert L. Cosinuke and Jennifer M. Krier, and John W. Cosinuke. She is survived also by her grandchildren, Matthew A. and Alexis Cosinuke, Abigayle J. Cosinuke, Willa L. Cosinuke and August J, Cosinuke, and great-grandchildren Iris M. Cosinuke and Maddox W. Cosinuke. Her older brother John M. Roe age 97 lives in Rochelle, Illinois.
Jane is pre-deceased by her husband Walter Cosinuke, her sister Maxine E. Crowell, and her brother Morris M. Roe.Memorial services in Pennsylvania will be held September 18, 2021 at 11:00 AM at the White Horse Village Auditorium in Newtown Square, Pennsylvania and at the Lighthouse Church in Chana, Illinois at a date to be determined. In lieu of flowers, the family respectfully asks you to please consider a donation to Media Friends Meeting 125 W. 3rd St. Media, PA 19063-2498.
Share Your Memory of
Jane